influenced by patterns created on clothing and garments, taiwanese studio waterfrom design has realized a colorful home interior in taipei for a young fashion designer, ms.chen. adorned in thick and bright colors, this vibrant home brings in rhythmic and geometric charm.

metallic mesh and glass make up the bookcase at the entrance, evoking the translucent effects of fabrics
looking at artworks by rené gruau, a well-known fashion illustrator, waterfrom design has employed colors that offer a french-styled vividness and audacity to the overall interior. the study area in warm orange, the living room in tranquil blue, and the kitchen in sumptuous gold dynamically complement and contrast with one another.

with a look suggesting a sewing machine, the tailor-made base of the dining table breaks through traditional styles
prompted by silk and lace, translucent textures are reinvented as metallic mesh and glass in the electric-blue bookcase at the entrance. this approach produces see-through effects and a contrast between the glossy glass and unadorned slate wall — resulting in an artistic taste with converted optical illusions. in addition, abstracted shapes of bow ties and belts — from garment accessories and art deco — are exhibited as delicate details within the bookcase interior.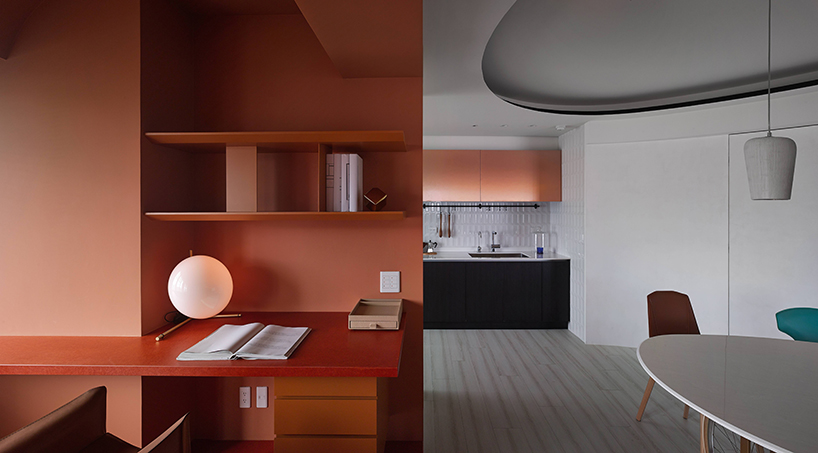 warm colors in the study area elegantly contrast, as well as complement, the light gray ambiance

view towards the entrance door where electric blue, bright orange and pure white come together in a vivid setting

the TV wall is realized with darker hues, offering a more formal setting

overview of the dining area and clothing wall

sharply defined copper tubing of pendant lamps hang down from the ceiling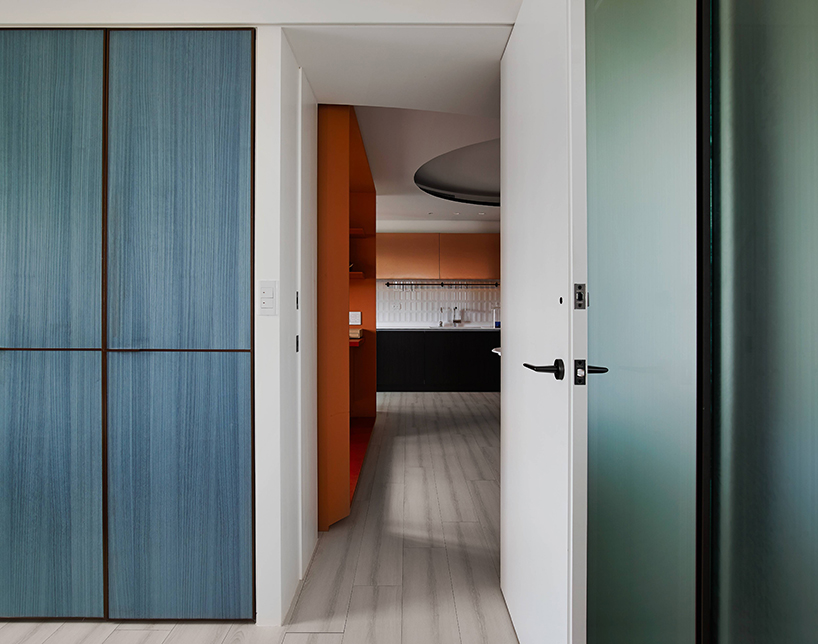 view from the master bedroom towards the kitchen area

bathroom in monochromatic colors
a discrete touch of light-colored hues within the master bathroom
project info:

designer: waterfrom design
client: ms. chen
category: residential

location: downtown taipei city
area: 76 m2

layout: living room, kitchen, dining area, study room, bedroom, bathrooms
material: metal, iron castings, metallic mesh, stone brick, valchromat, mirror, glass, veneer
design
design period: 10.2015 – 12.2015
construction period: 02.2016 – 06.2016
photographer:kuomin lee
copyright: waterfrom design
[Source:-Designboom]