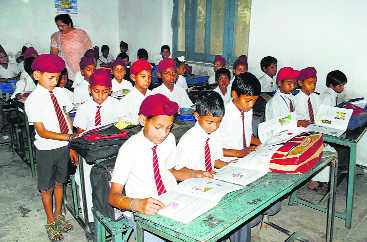 Sanjeev Singh Bariana
Tribune News Service
Chandigarh, June 17
The special committee on schools suggested by Chief Minister Capt Amarinder Singh has noted that the level of education in Punjab is slipping. This follows the average pass percentage of 59 per cent in government schools this year.
The special committee took into account the findings of different studies conducted by the National Achievement Survey (NAS) by the NCERT, ASER by Pratham, evaluation of class V and VIII results by SCERT and general results of class X and XII before listing out an action plan for improvement.
The committee, which met last week under the chairmanship of Secretary (School Education) Krishan Kumar, comprised heads of schools that had shown 100 per cent results in their schools, besides meritorious teachers who had shown exceptionally good result in their classes.
Expressing concern over the quality of teaching, the committee has said one of the "biggest challenge facing school education was unsatisfactory learning outcomes."
Quoting from papers of the committee report, a senior principal said government schools faced shortage of infrastructure with regard to the very basic facilities of classrooms, safe drinking water and electricity.
What quality of teaching can be expected in schools with a skewed teacher-student ratio? The irrational distribution of staff leads to virtually no teaching at many places. Arguing for a separate cadre for border areas, the report has also pointed out that certain districts had surplus teachers while many areas, particularly borders, did not have the required teachers.
In the direction of suggested reforms, the committee report has sought that more schools should be provided with smart classes and more sessions with English as the medium for imparting lessons.
Schools have sought books for distribution among children before the commencement of the academic session. Currently, these are usually delayed.
A headmaster based in Jalandhar district, requesting anonymity, said, "All official deliberations add up to a big zero if the very basic requirements of classrooms, teachers and schools heads are ignored."
A mathematics teacher said, "We have pointed out to the overlapping mails on the same subject from different wings of our headquarters including the Director General School Education (DGSE), Punjab School Education Board (PSEB), State Council of Education and Research and Director Public Instructions (DPI). These are sometimes confusing and waste time."
With regard to the teacher training programmes, the committee has sought that teachers be provided training in soft skills (information technology), especially in English.
["Source-tribuneindia"]