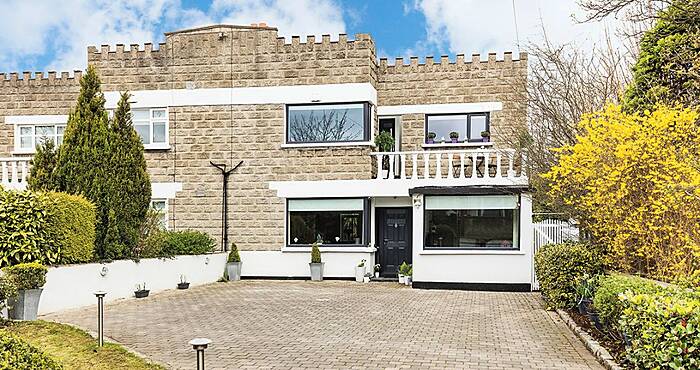 Maple Lodge on Killiney Road, was built in the early 2000s in a homage to 1930s architecture – complete with railed flat roof terrace and corner windows. It has modern conveniences such as double-height ceilings and a C1 energy rating. You reach the roof terrace from the en-suite master bedroom on the second floor. There are five more bedrooms on the first floor (one en-suite), along with an office and gallery seating area. The ground floor has four reception rooms and the kitchen, for total floor area of 3,900 sq ft.
'Sorrento', 479 Howth Road, D5
€750k  Sherry FitzGerald Sutton (01) 839 4022
All along the Howth Road in Raheny there are pockets of art deco homes reflecting the fashion for 1930s marine-style architecture. Number 479 is among a cluster of semi-detached houses in that style, with quite big back gardens facing south, although an extension has reduced the garden to 52ft by 35ft. It's now 1,744 sq ft, with four bedrooms on the first floor, along with the main bathroom. Downstairs is an open-plan living room, a playroom and an extended open-plan kitchen and family room with a vaulted ceiling.
13 Vergemount Park, Dublin 6
€899k  JLL Residential (01) 673 1600
 Vergemount Park is a little oasis of 19 art deco-style houses, built in the mid-1930s on a cul-de-sac off Clonskeagh Road. It's lost one of its original features – the windows – but as none of the Vergemount Park houses has the typical flat roof, it comes with a converted attic reached from a spiral staircase in one of the three bedrooms. There's also a bathroom and separate toilet on the first floor. Downstairs are two reception rooms and a kitchen and utility room. A garage adjoins the house, leading to a lawned back garden.
660 Howth Road, Raheny, D5
€650k  JB Kelly (01) 839 3402
In bright sunlight, the row of dazzling white art deco houses on the north side of Howth Road look like so many ocean-going liners at berth. Among them is Number 660 – a three-bedroom semi-detached with a lawned front garden and a 90ft back garden. The three bedrooms are on the first floor – one accommodating that curved front wall. The ground floor has an interconnected living room and dining room, with doors to the garden, and a kitchen with utility room. There's also an adjoining garage of about 160 sq ft.